Preventive and Cosmetic Dental Team in Honolulu, Hawaii

Our dental practice is privileged to have well-qualified, friendly and caring staff. All are CPR certified and licensed in their area of expertise. Like Dr. Chin, staff members keep current through frequent continuing education courses. They are committed to doing their best for each patient and making every dental visit convenient, comfortable and as relaxing as possible.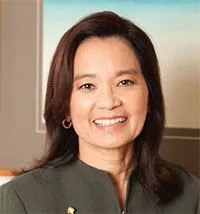 Angela M.A. Chin, DMD, FAGD
Dr. Chin completed the General Practice Dental Residency at The Queen's Medical Center (QMC) 1981-82 and has practiced dentistry in Hawaii for over 40 years. Currently on staff at QMC, she recently completed 2019 - June 2023 term as Chief, Dentistry Division. Dr. Chin has been honoured to be named one of Honolulu's Best Dentists since 2001. A fellow in the Academy of General Dentistry since 1988, she graduated Magna Cum Laude from Tufts University School of Dental Medicine 1981. Continuing education is a year-round commitment for Dr. Chin and staff.

Practice Philosophy
Dr. Chin has dedicated her practice to providing excellent, prevention-oriented dental care using the most conservative techniques as gently and carefully as possible. Sharing up-to-date information with her patients in order to contribute to their oral health and in turn, overall health is a priority. Dr. Chin and staff always do their best to follow-up and help our patients keep on track with their needs and goals. While we pay special attention to our keikis, it is never too late to start practicing good oral care habits and get in shape to have a healthy, attractive smile. Healthy smiles contribute to healthy bodies and minds.

Professional Affiliations
Active Staff, The Queen's Medical Center (QMC) , Honolulu, Hawaii 1982-present
Chief, Dentistry Division, QMC, Honolulu, Hawaii: Past Chief 2000-2010, 2019 to June 2023
Hawaii State Board of Dental Examiners:1990-1998
Fellow, Academy of General Dentistry
Honolulu County Dental Society
Hawaii Dental Association
American Dental Association
International College of Dentists, Fellow 2018
American Association of Dental Boards- Lifetime member
Special Olympics:Special Smiles, Special Olympics-volunteer dentist
Tufts University School of Dental Medicine Alumni Association
Hawaii Dental Forum 2015-2020
Gordon Christensen International Study Club 2016 to present
Susan G. Komen Foundation-Doc for the Cure 2005- present; Chair 2018
South Shore Dental Society- President 2018, member 1984- present
ANAK, Georgia Institute of Technology
AmekUsmile Team captain: Susan G. Komen Foundation -Hawaii, Alzheimer's Association- Hawaii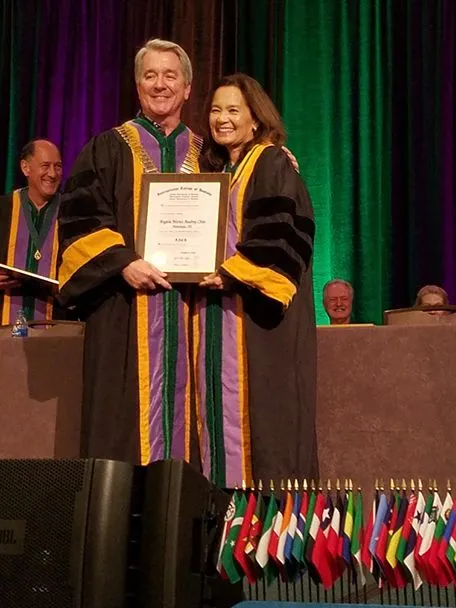 2018 President Dr. Joe Kenneally inducts Dr. Chin into International College of Dentists
Pam, RDH
Pam received a B.S. in Dental Hygiene at the University of Hawaii at Manoa. She has been the "real boss" of our dental practice for over 33 years with Dr. Chin (and still looks as young as ever). Pam's areas of expertise include patient coordination, insurance benefits and claims, dental hygiene, dental assisting, and inventory control. Pam is also the resident "green thumb". Ensuring your visits are comfortable as well as sharing up-to-date tips for having a healthy smile for a lifetime is a priority for Pam.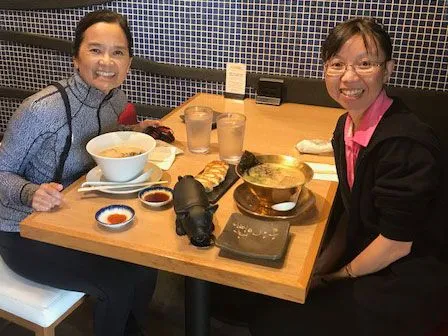 May 2017: Dr. Chin and Pam celebrate Pam's 27th anniversary
May 2023 marked Pam's 33th anniversary ...WOWSA and THANK YOU Pam!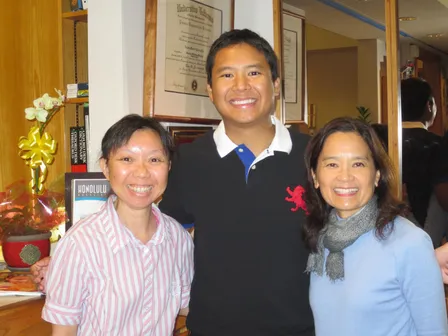 Our dental intern Chris Wu graduated from Tufts University School of Dental Medicine, Boston in 2018 and completed the QMC Dental Residency Program, Punchbowl in June 2019. He is presently a member of QMC Dentistry Division along with Dr. Chin; member of dentist team in QMC Dental Clinic as well as helping with Dental on-call service and in private practice.
Congratulations Dr. Chris!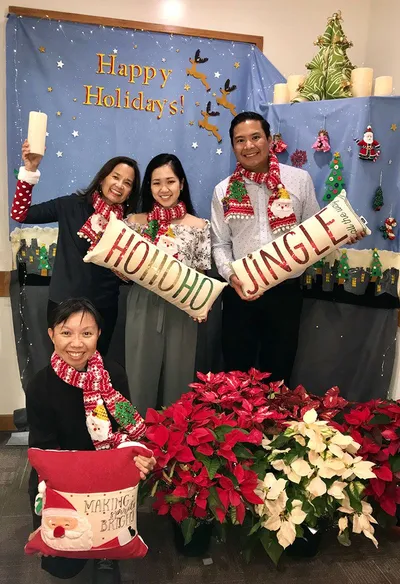 2019 Drs Nadiene and Chris join Dr. C & Pam for Holiday Fun.

Our best wishes & aloha on their Graduations and First Wedding Anniversary!

Congratulations also to Dr. Nadiene for completing her Pediatric Dental Residency Program in Hawaii in June 2022