Preventive Dentistry, Minimally Invasive Biomimetic Dentistry, Teeth Whitening, Cosmetic Dentistry and Dental Implants in Honolulu, Hawaii
---
From routine cleanings and fillings to bruxism (grinding) devices, Angela M.A. Chin, DMD, FAGD is equipped to handle all your dental needs. To help you understand your options, we've included descriptions of some of our leading services on this page.
Preventive care and guidance-flouride varnish, Silver Diamine Fluoride
Nutrition Counseling
Sealants-Preventive Resins
Cleanings
Scaling and Root Planning
Minimally Invasive Preventive Biomimetic Dentistry
Cosmetic contouring-reshaping
Conservative cosmetic, nonmetal fillings
Tooth Whitening
Bonding
Veneers
Crowns and Bridges
Implants
Mouthguards
Practice Highlights and Special Touches
Below are some practice highlights and special touches that reflect our mission to provide excellent care with your well- being and comfort as our top priority.
F u n D a y s
We take many photos with our patients throughout the year. Our annual Halloween and Holiday festivities are memorable events whereby patients and colleagues join in the fun and take photos with us.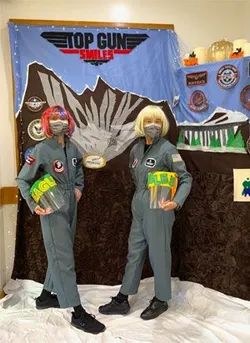 2022 Halloween: Eagle 7 and Eagle 8 target Oral Problems

2021 Halloween: Two musketeers Achi and Pyou protect all who visit Ste 418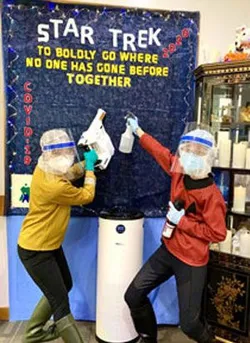 2020 Halloween: Captain A & Chief Engineer Pam putting Safety First


2019 Halloween:Princess Jasmine, Aladdin

and Abu sing along in Suite 418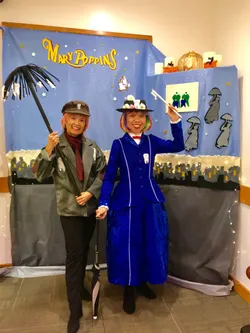 2018 Mary Poppins and Bert keep pearly brights shining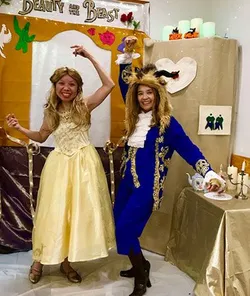 Oct 2017 with Belle Pam and Beast Dr. C- thanks to all who enjoyed sharing music and aloha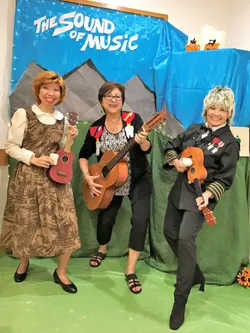 Oct 2016 Halloween Fun:
Pat join Maria Pam and Captain Von Chin in rocking to The Sound of Music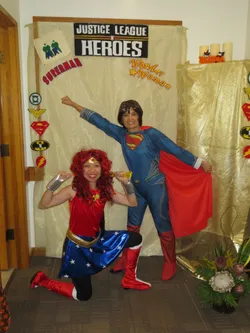 2015 Heroes here to help you!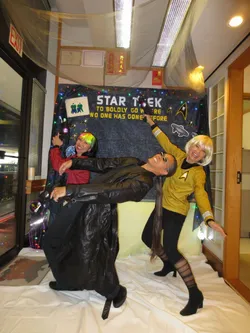 Neo beams on board Smile Enterprise 2014 w/ Captain Kirk A and Scotty P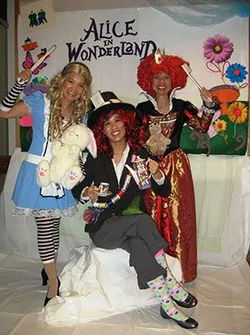 2013 Halloween Festivities in Wondersmileland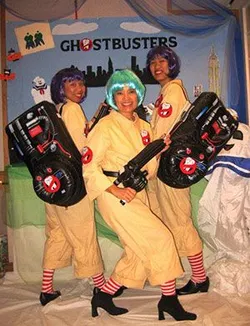 2012 Cavitybusters Halloween
---
Dark Glasses and Music anyone?
Protective tinted glasses for our patients. We encourage you to bring your own sunglasses.
Kindly bring a jacket if you think you might be cold during your dental care.
Music -You are welcome to use your own headphones/phone.
Crescent Comfort Rest System helps support your body and take pressure off your back as you relax in our dental chairs.
Naptime
Use of non latex rubber dam as indicated and occlusal bite rests (teeth pillows) and very comfortable, supportive dental chairs allow our patients to relax and many sleep during their visits with us. The Crescent Comfort Rest System available on all our dental chairs provide great comfort and support while you rest in our dental chairs. All items are sterilized/ disinfected between uses.
Lights, Action and Gentle Dental Care while you sleep!
Practice Focus


Emphasis is placed on the links between oral health and systemic health. The mouth is a window into the body and Dr. Chin develops a plan for each patient to have good oral health and in turn, contribute to their overall health.
Preventive care and the multi-faceted approach to preventing decay and gum disease today are included in each patient's treatment plan. The effect of medications, certain systemic problems e.g. diabetes and hormonal changes on your oral health are reviewed. Up-to-date information, home care and products that may help you are shared as indicated.
Strict infection control measures-we treat our patients as we would want our family and loved ones to be treated. Many barriers are used and instruments are cleaned and sterilized after every use. A weekly sterilizer performance monitoring program is followed.
Blood pressure/pulse readings are taken and medical history reviewed prior to and at each visit.
Oral cancer screenings are completed periodically and patients are advised how to minimize their risks.
Stringent Personal Protective wear is used by Dr. Chin and staff at all times.
Please see COVID-19 Safety Measures page.
Services:
Initial Comprehensive Examination
Your initial comprehensive examination visit includes a review of your medical and dental history pre-appointment via telephone with Dr. Chin, a visual examination including an oral cancer screening, charting, periodontal examination, evaluation of existing fillings and teeth, diagnosis and treatment recommendations. We will also take a series of small radiographs (x-rays), series of intraoral photos of your teeth and in some cases, a panoramic x-ray( will be requested) for accurate diagnosis.
Implants
Implants are synthetic structures that are placed in the area of the tooth normally occupied by the root. Implants are anchored to the jawbone or metal framework on the bone and act as a foundation for an artificial tooth or permanent bridge. In some cases, implants can be used to attach dentures. Read More...
Veneers
Veneers are thin pieces of porcelain or plastic cemented over the front of your teeth to change their color or shape. Veneers are used on teeth with uneven surfaces or are chipped, discolored, oddly shaped, unevenly spaced or crooked. Read More...
Crowns and Bridges
Crowns are synthetic caps, usually made of materials like porcelain on gold, nonmetal materials-porcelain substtues placed on the top of a tooth. Crowns are typically used to restore a tooth's function and appearance following a procedure such as a root canal. When decay in a tooth has become so advanced that large portions of the tooth must be removed, crowns are often used to restore the tooth. Read More...
Teeth Whitening
Whitening procedures have effectively restored the smile of people with stained, dull, or discolored teeth.The darker tissue of your teeth, the dentin, can become exposed as the outer layer of enamel is worn away by the effects of aging or things like caffeine and tobacco. Read More...
Toothaches
Simple toothaches can often be relieved by rinsing the mouth to clear it of debris and other matter. Sometimes, a toothache can be caused or aggravated by a piece of debris lodged between the tooth and another tooth. Avoid placing an aspirin between your tooth and gum to relieve pain, because the dissolving aspirin can actually harm your gum tissue. Read More...
Dental Emergencies
Our goal is to help you to minimize the risk of emergency treatment. This is why we commit a generous amount of time designing a Lifetime Treatment Plan that will help you to offset the possibility of unforseen pain or tooth breakage. Read More...