Oct 2022: Dr. Chin & Pam with AmekUsmile team support
Susan G. Komen Foundation-Hawaii... entire team not pictured. Thank you for support!
2019 Beautiful H & D Sukita poinsettias add Holiday Joy for years!
2019 Pam & Dr. C enjoy Men's UH Volleyball games w/ W & D Shioi and friends. ALAKAI all the Way and GO BOWS!

2019 Special Olympic Volunteers - go Ron!

2019 UH Volleyball Wild Wahine Fans-D Shioi ( fearless leader -not pictured). Dr. C & Pam
2018 Alzheimer's Walk- Bronze Sponsor
2018 Komen Hawaii Doc for Cure: making goodie bags for Breast Cancer Survivors & Warriors
2018 Dr. Chin Chair of Komen Hawaii Docs for Cure
2016 Dr. Chin and Pam volunteer at Special Smiles Special Olympics - an annual tradition since 2002
2014 Pam and Dr. Chin walk to End Alzheimer's with balloons galore.
2017 Dr. Chin and Pam enjoy haku leis made by Rawleen with sister Rawlette (President of Queen Emma Hawaiian Civic Club)
Dec 2016 Dr. Chin and Pam celebrate holidays with Rawlette K. (Pres) and Rawleen F. and friends at the Queen Emma Hawaiian Civic Club Christmas Lunch.
2017 Dr. Chin, a Doc for the Cure, and Pam finish up Komen Walk for the Cure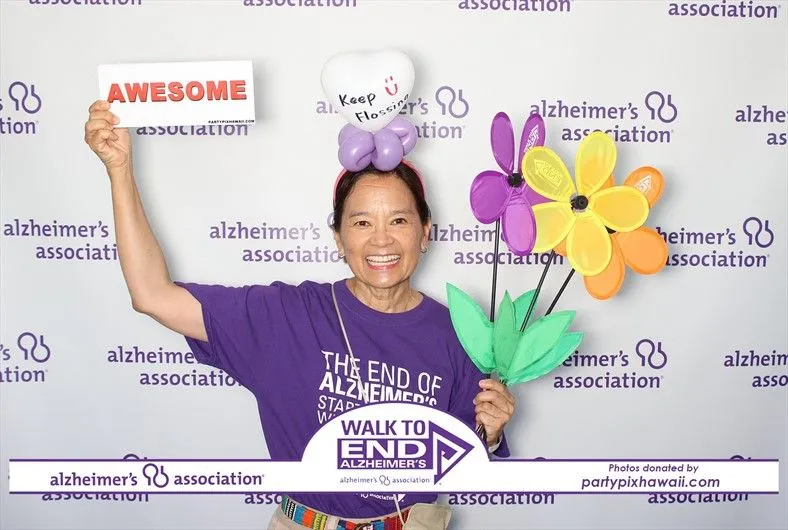 Sept 2015: Dr. Chin walks in support of Alzheimer's Association, Hawaii Chapter
Dec 2015: Dr. Chin and Pam join Rawlette, President of Queen Emma Hawaiian Civic Club for their 51st Christmas Lunch held at The Queen Emma Summer Palace, Nuuanu
Oct 2014: Dr. Chin (Doc for the Cure) and Pam Walk for The Cure
2014 Dr.Chin, Pam and super stylist /makeup artist Dawn participate in Wahine Forum as Bronze Sponsors